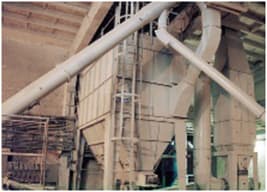 1.Planning and manufacturing at first hand.
2.We offer you the most modern de dusting systems and conveying engineering, for your individual application.
3.Reference assets worldwide.
QUARRY MINING LLC has a decade long successful relationship with FAV Vollert KG. Engineering and supply of heart equipment is handled by FAV Vollert KG while QUARRY MINING LLC is manufacturing steel structure, silos, duct work and is taking care of encapsulation and installation of de dust filter plants
These filters usually can be used just to 260°C. Because of the distance between the compressed air storage with integratd membrame-closing-claps and the cleaned air channel a thermical isolation can be installed.
So powerful membranes are available for higher temperatures and a long endurance for these membranes and low costs for spare parts are the results.
Bag Filter Cylindric Filter
The FAV-Cylindric Jetpulse filter can usually be used just to 260°C. Till a vessel diameter of 1300 mm round type Jetpulse filters are normally equipped with a swing around tube bottom. This bottom is to lift by hydraulical or mechanical forces. From a diameter of 900 mm FAV-Jetpulse filters have a clean air channel for inspection on foot. Special excecutions are possible in every case.
The needled felt filter tubes are mainly made of synthetic fibre. The standard of a filter tube depends largely on the kind of the filter fibres. Special designed materials can stand very high running temperatures and are resistant against agressive chemicals.

Qualities and durability of a filter tube depends on composition, structure, surface treatment and the thickness of the material. Because of many years of practical experience in filter technology, FAV is your partner to check out the perfect combination of materials for your individual solution.
Application under following conditions
Material

acid

alkaline

organic solvent

constant temp.

remark

Meta-Aramide
(Nomex)

no

yes

yes

220°C

not hydrolysis resistant,low acid restistant, highly restistant against alkaline

Polyacryl-
nitrile

yes

no

yes

125°C

resistant against acid and hydrolsis satisfactory resistant, against alkaline

Polyester

yes

no

yes

150°C

best proved because of the quality of polyester fibre , but not hydrolysis resistant moderate resistant against alkaline

Poly-
propylene

yes

yes

no

95°C

very high mechanical stability acid and alkaline resistant

Polyimide (P84)

yes

no

yes

260°C

hydrolysis resistance depends on special conditions

PTFE
(Teflon)

yes

yes

yes

260°C

resistant against nearly all chemical agents

Fibre Glass

yes

yes

yes

260°C

nonresistant against hydroflouric acid, good chemical resistance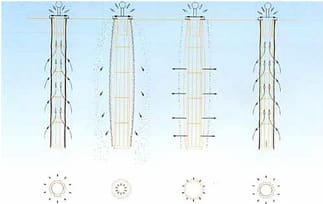 Filter Cleaning with Impulse Technique FAVORIT ECONOMY air pressure cleaning
The secondary air volume got increased at a constant consumption by optimizing geometric conditions of blast-pipe, venturi-nozzle and filter tube. Result: an improved drench activity. The tube gets drenched additionally effective after the air pressure push. Also the particles inside the filter get flushed safety. The result is a better, more intensive cleaning process of the filter tubes at a constant air consumption.