KLEEMANN GmbH is a member company of the Wirtgen Group, an expanding and international group of companies doing business in the construction equipment industry. KLEEMANN is one of the oldest German Companies being active in the field of Crushing- & Screening equipment and has a name for their renowned, high quality products.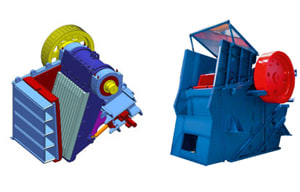 Operating principle
Jaw crushers operate according to the principle of pressure crushing. The crushing material is crushed in the wedge-shaped pit between the fixed crusher jaw and the crusher jaw articulated on an eccentric shaft. The material is crushed by the elliptic course of movement and transported downwards. This occurs until the material is smaller than the set crushing size.
Jaw crusher – SStR type
Kleemann offers a range of jaw crushers for different feed and grain sizes and performance capacity. The single toggle jaw crusher of the SStR type has openings from 1000 x 630 mm up to 1600 x 2100 mm in size. The feed capacity is from 200 t/h up to 2000 t/h.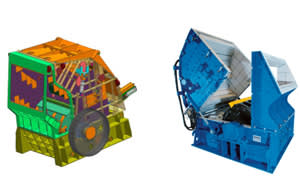 Operating principle
In comparison to pressure crushing, the principle used here is impact crushing. In this process, the crushed material is picked up by a fast moving rotor, greatly accelerated and smashed against an impact plate ("impact toggle"). From there, it falls back within range of the rotor. The crushed material is broken again and again until it can pass through the gap between the rotor and impact toggle.
Impact crusher – SNH type
The SNH impact crushers are the so-called secondary impact crushers and are mainly used in the second crushing stage. They are suitable for medium-hard to hard stone and gravel for feed sizes up to 350 mm. There are 3 different toggles including "grinding path" and 4 possibilities to adjust them, this to be able to produce high quality gravel and adjust sand production. Mineral mixtures and high quality chippings are produced here from the pre-crushed material. SNH impact crushers also achieve excellent results as the primary crusher for river gravel.
Impact crusher - SHB type
The SHB impact crushers can be used as primary but also secondary impact crushers. They are distinguished by their particularly robust construction and are ideal for crushing natural stone, as well as concrete, rubble and asphalt. Thanks to feed openings of up to 3020 mm x 1800 mm, feed capacities of up to 900 t/h can be achieved. The SHB impact crusher has only 2 toggles and is therefore not the best option to produce fine gravel but coarse material.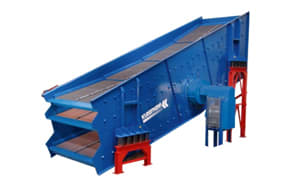 The VU types screens are high efficient screens to produce any kind of product. They are available of size 120 x 300 cm up to the size of 240 x 800 cm and from 100 t/h up to 600 t/h capacity.